MewnBase
v0.51 - Dozer Vehicle & Auto-Crafter Update
---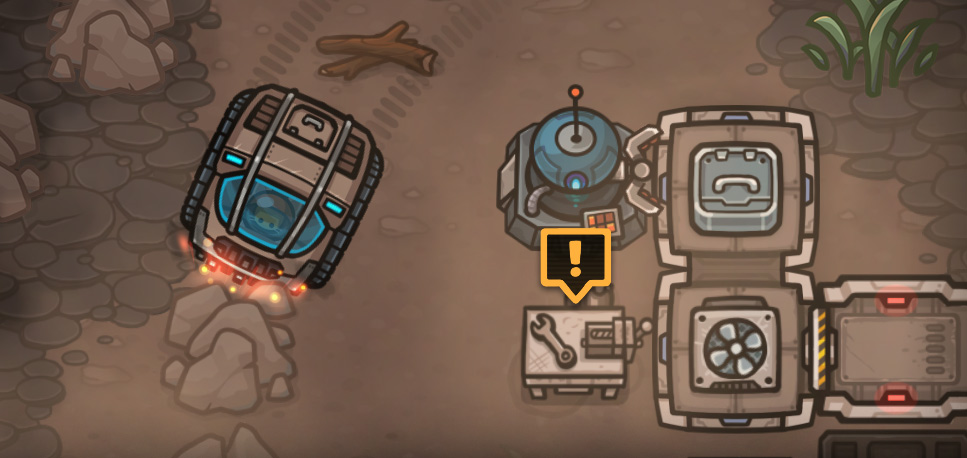 New and Updated
Added Dozer vehicle that can drill through rock piles. (hold spacebar to run the drill!)
Added Auto-Crafter robot that can make and collect items at adjacent modules; including growing and collecting plants from Greenhouses.
Queue up items to craft even when your inventory is full.
Improved Vehicle trailer physics.
Weather is now less random, and added new-game world options for setting weather frequency.
Rebalanced base power consumption for early-game modules.
Made more crafting recipes require Scrap.
Rain Collectors now slowly collect moisture (creating 1 bottle every 2 days).
New larger and animated Tree art.
Added more lights to Airlock, Smelter, and Science Lab.
Brighter Nav Light glow.
Tech Tree Clean-up
Merged Engines and Wind Power into regular Power tech.
Power now costs 10 samples instead of 5.
Advanced Modules now requires Power instead of Advanced Power.
Water item no longer requires Food tech.
Transportation now requires Power tech.
UI Updates
Drag inventory items up off off the inventory bar to drop them.
Added button in Science Lab research results to take you straight to the Tech Tree.
Select empty inventory slots with number keys or via click.
New tooltip explaining how to recharge and repair Vehicles.
Improvements to front-end menu layouts in HD mode.
Main menu intro animation fixes.
Localization updates and typo fixes.
Cryllic character fix.
Fancier formatting on the What's New popup.
Bug Fixes
Fix to hopefully address duplication of Auto-Crafter jobs.
Fixed issue where opening the Map wouldn't pause the game.
Tutorial: Preventing player from accidentally picking up base modules before it is explained.
Fixed crash when lightning would hit a base module still under construction.
Fixed issue where crafting some non-stacking items would collect as a stack (Oxygen tanks etc).
Fixed crash when cancelling crafting jobs being made by Auto-Crafter.
Fixed issue where Auto-Crafter job text input would retain focus after closing the popup.
When entering the Lander to leave, HUD is hidden and input is restricted to prevent player from opening up menus while the Launch Controls are visible.
Fixed issues with ground tile edges doubling up. More variety of edges shown.
Preventing vehicle trailers from connecting into a loop.
Known Issues
Auto-Crafter arm needs to rotate smarter.
Alt-Tab doesn't work while in Full-Screen at the moment :( - F11 to exit Full-Screen mode first.

Thanks to everyone that has helped report bugs, either by sending me crashlogs or posting them on the Discord server!
Files
mewnbase-linux64.zip
74 MB
mewnbase-osx.zip [Warning: has launch-crash issues]
68 MB
Comments
Log in with itch.io to leave a comment.
I am not sure, but I have several Rain Collectors from previous save and looks like they are not working
Wait, I just realised you did. Do people who purchased the game on itch before it came out on Steam get a Steam key?
I did, go to your download page of the game and on the bottom there should be an option to claim a Steam key.
The_Observer is correct - if you bought MewnBase (by itself) on itch.io it comes with a Steam key. However Steam keys are not included if you got the game as a part of a larger bundle.

No I bought the game by itself a while ago. Not in a bundle.
Well after having to prove to itch that I'm me about 9 times, they finally agreed to let me have my dang key! Got it now, thanks. :)
What a pleasant surprise :) Time for another run.

Out of curiosity, why haven't you released the game on Steam yet?