MewnBase
v0.44.1 - HUD redesign, Lightning, Discord
---
A bunch of random things have all finally congealed themselves into this update over the last couple months, I'll try and touch on at least the more notable changes: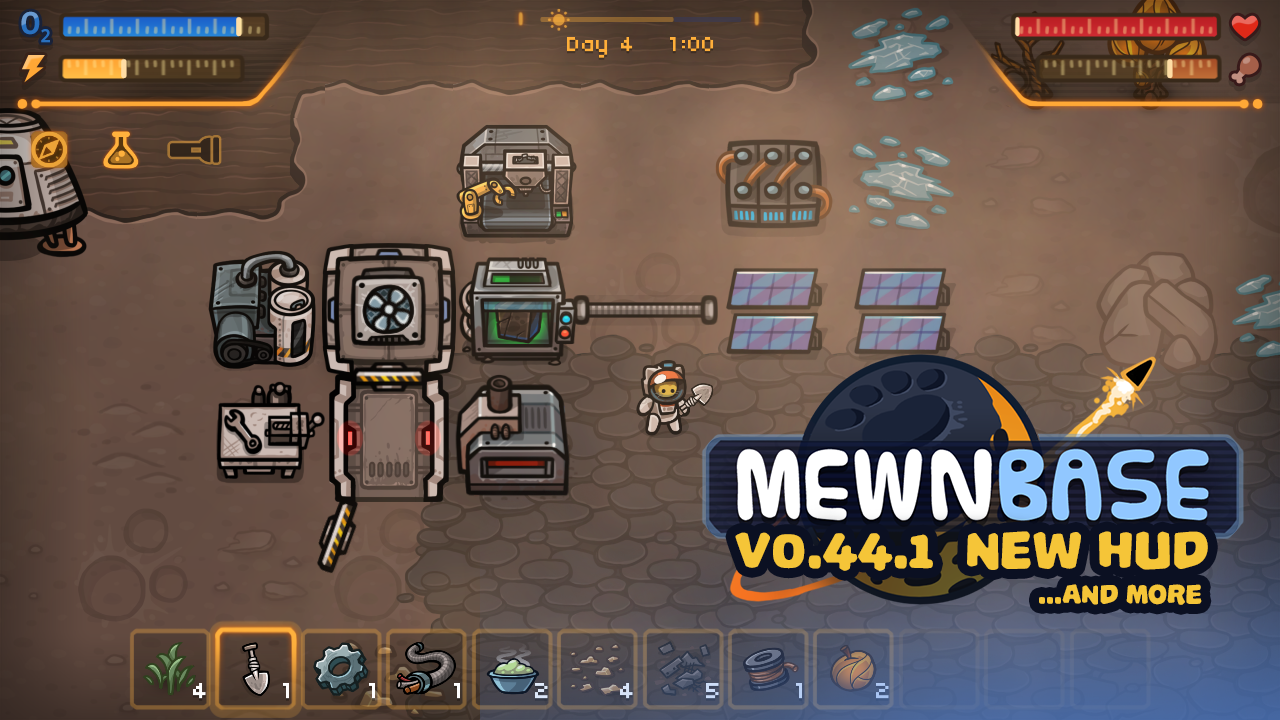 HUD Redesign
The in-game HUD had been long overdue for a bit of an refresh. The new HUD reduces the amount of text (using icons and progress bars) to make all your important space-cat stats hopefully a bit clearer. Including:

New meters to show your health and hunger more accurately (with hover text).
New day/night cycle indicator.
New inventory bar art tweaks.
Lightning
In addition to normal rain storms, there are also now sometimes Thunder Storms that create lightning strikes. You'll see them appear around you as electric glows on the ground before they (might) strike. Be sure to stand clear or get indoors!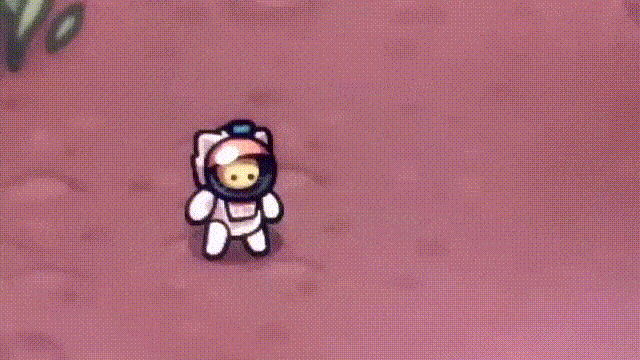 Discord API
For the Windows and Linux versions, I've hooked up the game to the Discord Rich Presence API, so now your friends can see if you're playing MewnBase :)
It's disabled on the Mac version for the time being until I can figure out where my implementation is causing hangs/freezes.
Known issue: For Windows and Linux, it doesn't seem to register and show you're playing if you launch MewnBase from within the Itch desktop app.
Come join the MewnBase Discord server! https://discord.gg/7dyWGMK

The rest...
Better saved game folder naming (now based on your character name, instead of a terribly long random number/string).
Science Lab now drops research items that are currently being processed when you pickup the lab.
Tab key now both opens and closes the Tech Tree popup.
Added a "What's New" popup that displays each time the game is updated, also viewable by clicking the version number on the main menu.
Item class refactor - it's been tested for a bit, but if you end up not being able to load your older saved games (hangs, freezes), please send me the crashlog or your save folder!
libGDX updated to a newer version.
Files
Version 0.44.1
Jun 28, 2018
mewnbase-linux64.zip
77 MB
Version 0.44.1
Jun 28, 2018
mewnbase-osx.zip [Warning: has launch-crash issues]
71 MB
Version 0.44.1
Jun 28, 2018
Version 0.44.1
Jun 28, 2018