MewnBase
v0.45 - Resource Regrowth, Airlocks
---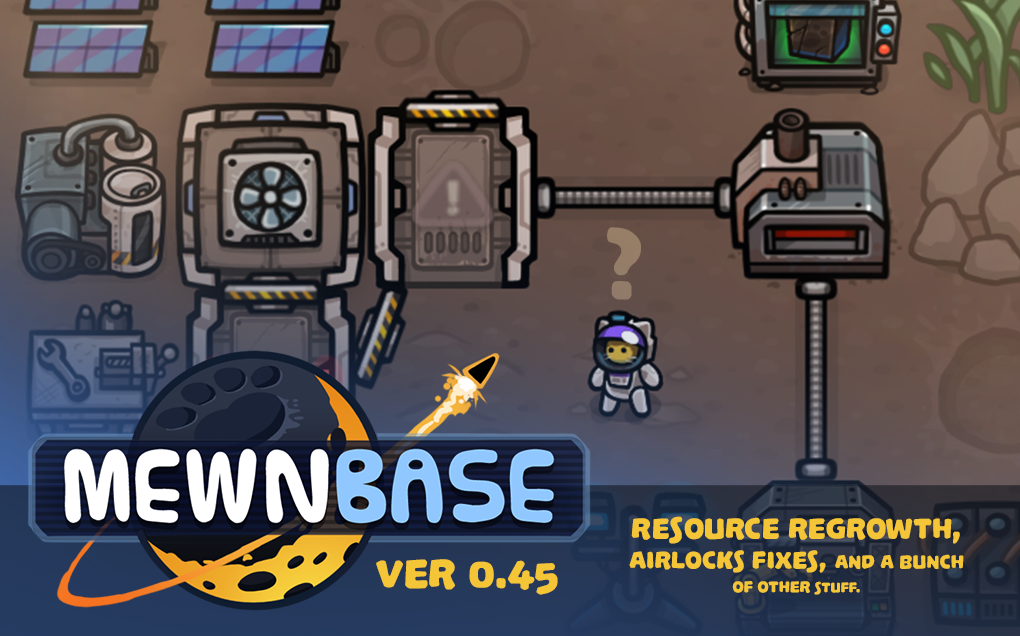 Resources
This update hopefully fixes an issue with longer-lasting game sessions, where resources (especially ice/water) become tougher to obtain after you've collected all of it around your base. Now some resources will attempt to re-spawn after several days:
Plants and root plants: 8 days + regrow time
Ice: 4 days
Note, they won't respawn if the player is nearby, or if there are base modules too close.
Airlock fixes
Airlocks must now be properly attached to habitat modules in order to get air in them. Airlocks not properly attached have a warning symbol on them, and their door status lights are off instead of red/blue.
Other improvements and bugfixes:
Habitat modules no longer start filled with oxygen every time they're placed.
HUD notifications won't block clicks behind them.
Inventory clicks are no longer blocked when a buggie behind them.
Player must now be next to the buggie in order to open its truck storage.
Generator won't let you keep dumping resources into it when its full.
Better tooltips for consumable items in your inventory bar, shows you how much hunger food will restore.
HUD tech tree button now shows how many samples you have to spend.
Thanks to the players over on the MewnBase Discord channel for helping report bugs and issues!
Files
Version 0.45
Jul 17, 2018
Version 0.45
Jul 17, 2018
mewnbase-linux64.zip
77 MB
Version 0.45
Jul 17, 2018
mewnbase-osx.zip [Warning: has launch-crash issues]
71 MB
Version 0.45
Jul 17, 2018
Comments
Log in with itch.io to leave a comment.
I apologize for a long break, download the game and test :)
Me and my friend love to play this game and love the work you have put into this game.
- maybe add a fatigue bar and a hydration bar for the hud
- drink water to fill the bar, food gives you small portions of water
- water filter
- Fatigue goes up the more you move around and the more you dig stuff
- replenish fatigue with a bed (bed module)
- sleeping in a bed passes 6 hours in game and replenishes energy