MewnBase
v0.37 - Rain Collector, Cargo, Buggie fixes
---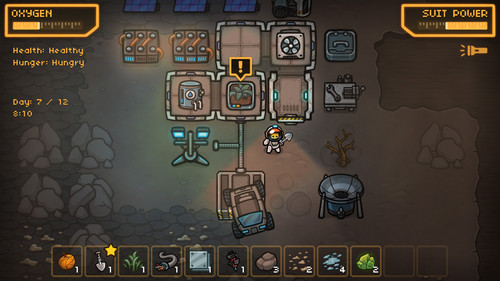 New
Added Rain Collector.
Added "outdoor" cargo container.
Added keyboard shortcut for toggling fullscreen mode.
Buggie now shows up on mini map.
Changes and Bugfixes
Changed behavior of the camera when you're driving the Buggie.
Buggie repair particles should now start and stop properly.
Fixed Medbay crafting cost.
When using Root Seeds, the Greenhouse shows Root plant graphic on it instead of regular grass when it's finished growing.
Fixed issues where keyboard input (mainly Esc) wasn't working on menus and popups.
Updated recipe for the existing indoor cargo container.
Fixed cargo container item stacking issue where moving an item to your inventory would fail and would say "Inventory full".
Fixed some issues with the color of the Comms Tower lights.
Garage now needs power to craft and repair Buggie.
Oxygen Tanks items now fully restore your suit oxygen and they play a sound fx when used.
Fixed issue where Repair Drone base module wouldn't consume power.
"Wake up" sound fx volume for the Repair Drone is now quieter when player is farther away.
Fixed issue where an Auto-Airlock with an air leak would automatically be fixed when stepping into it.
Workbench "item ready" (!) icon is now visible during night.
Big thanks to everyone that has been helping to report bugs :)
Cheers! - Steve

Files
Version 0.37
Jul 20, 2017
Version 0.37
Jul 20, 2017
mewnbase-linux64.zip
77 MB
Version 0.37
Jul 20, 2017
mewnbase-linux32.zip
60 MB
Version 0.37
Jul 20, 2017
mewnbase-osx.zip [Warning: has launch-crash issues]
71 MB
Version 0.37
Jul 20, 2017
Version 0.37
Jul 20, 2017