MewnBase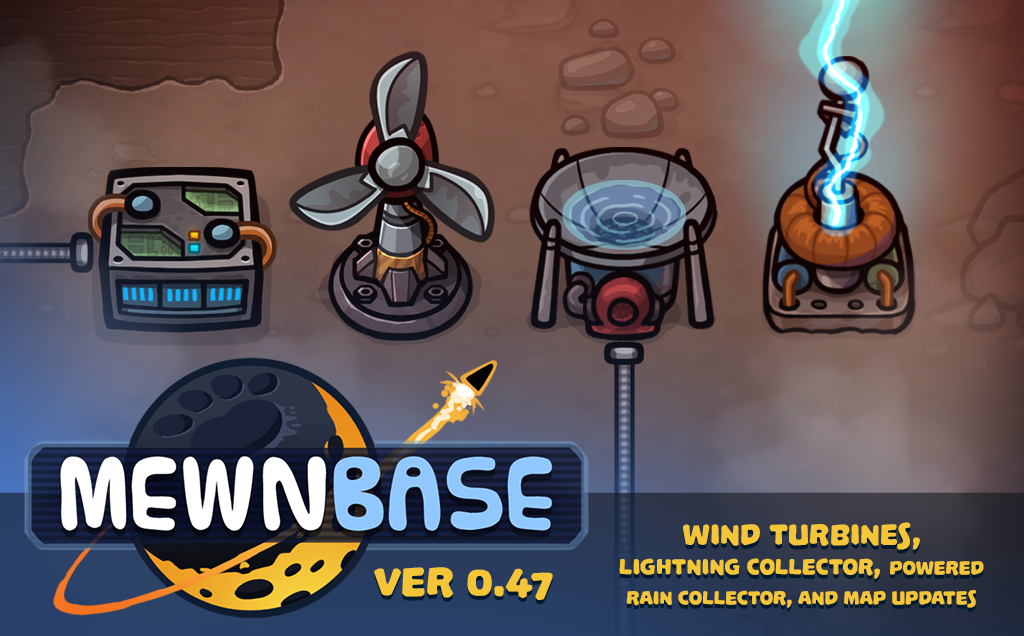 New Modules
Wind turbine - new means of power generation.
Lightning rod / collector - protects you and your base from lightning strikes.
Large battery - stores almost 3x power what normal battery modules store.
Powered rain collectors - automatically transfers rain water into your base's Water Supply modules.
Updates/Changes
RTG now generates 8 power instead of 5.
Moved batteries and solar panels to be crafted in the Construction Yard.
Engines now have their own tech-tree level.
Lowered the amount of hunger fruit provides.
Updated map view, including pan and zoom.
HUD updates for low-oxygen and losing health warnings.
Updated design to the base power popup.
Added item tooltips to the tech tree popup.
Added item tooltips to crafting recipe requirements.
Shift+click storage UI hint.
Localization updates.
Bugfixes
Fixed issue where you could build one floor on top of another.
Fixed close X button on Storage popup.
Fixed issue where airleak particle fx would keep happening even after picking up the base module.
Fixed initial player flashlight glow.
Fixed issue where item piles wouldn't save their quantities.
As always, if you encounter any new bugs or issues, or just want to say hi - hop on over to the MewnBase Discord server!
Files
mewnbase-linux64.zip
85 MB
Version 0.47
Mar 13, 2019
Version 0.47
Mar 13, 2019
mewnbase-osx.zip [Warning: has launch-crash issues]
79 MB
Version 0.47
Mar 13, 2019