MewnBase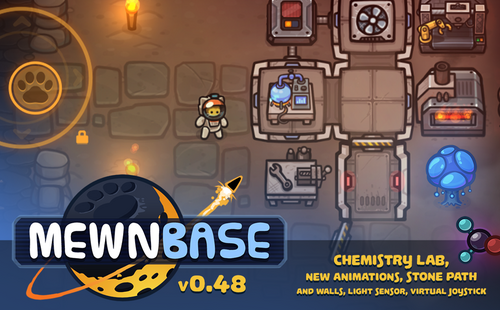 New Items
Torches that can be placed on ground
Chemistry Lab module
Blueshrooms, Chemicals, and Battery Cells
Improved Shovel
Stone Walkway and Wall tiles
Light Sensor switch
Updates/Changes
Updates to tech tree
Longer Mission lengths
New animation for base construction
New animation for Construction Yard when crafting
Added turbine safe-zone indicator when placing
Added extra info to the Wind Turbine's popup
Limited Artifacts and Portable Oxygen to 1 per inventory slot
Portable Oxygen is now made in Chemistry Lab
New particles on Smelter when it's crafting
Added plant-specific Greenhouse sprites
More resource sprite variations
Added virtual joystick option for player movement
Added low-hunger warning
Inventory tooltip tweaks
Swapped behavior of Click vs Shift-Click for moving and dropping item stacks
Re-ordered items in crafting menus
New buttons on main menu.
Localization updates
Bugfixes
Removed sun icon from map
Fixed URL for Steam version of the game
Fixed potential crash with Repair Drones on game load
Fixed crash on main menu related to saved games timestamps
Fixed heading font issue with Russian characters (Pause Menu)
As always, if you encounter any new bugs or issues, or just want to say hi - hop on over to the MewnBase Discord Server!
Files
Version 0.48.3
Jun 17, 2019
mewnbase-linux64.zip
85 MB
Version 0.48.3
Jun 17, 2019
mewnbase-osx.zip [Warning: has launch-crash issues]
79 MB
Version 0.48.3
Jun 17, 2019
Comments
Log in with itch.io to leave a comment.
Automated Farming/ Mining Drone might be cool.
I love this game and I came up with an idea that would be cool to add in the future. It would be a later game feature where you can research a building drone that when you use it could give you an overhead view of your base with a grid style overlay. The drone would let you move parts around without having to have your space cat go to each piece and remove it and then place it.

Since it's late game you'd still have to do things manually early on but once you can research it, it would be a nice perk for people who like to really organize their base.
Even if the feature is something you don't see yourself adding, or would be too put in, I still love this game and I always get excited to see each new update. Great job on this awesome game!